Dear Penn Hills Friends:
We have a celebrity in our midst... John Tallent, PHHS Class of 1970 plays percussion for the internationally acclaimed Persephone's Dream. Although they are starting to get some airplay in the states, PD is becoming a household name in Russia, Brazil and Scandinavia. Radio stations are clammering to get their CDs as the request lines are ringing off the hook.
As you may have read in my Persephone's Dream Show Review (below), I saw them live and was blown away! Since I have been to many shows, and am not easily impressed, being blown away takes a mighty big wind, the likes of Mariah...
If you saw them, and heard them, you'd also want them blowing through your transistor radio, your dashboard ovals, or on your MP3, 4 or even 5 if there is such...
O.K. no more bush beating (no wisecracks from the left); here's the deal. I need your help, big time. The truth is I want the local radio jocks to spin some Persephone's Dream. The best format for PD is probably WYEP 91.3 on your FM dial. If we can somehow organize a call campaign and let 'em know we like 'em, and we want 'em, maybe we can convince 'em to play 'em! Since I'm not the best organizer in the county, any suggestions on how to make it happen would be really appreciated. Please e-mail your suggestions to
PennHillsPa@yahoo.com
and we'll develop a plan of action.
Thank you so much for your help...
Webmaster
Here's a screen shot of the Russian top 5 Picks: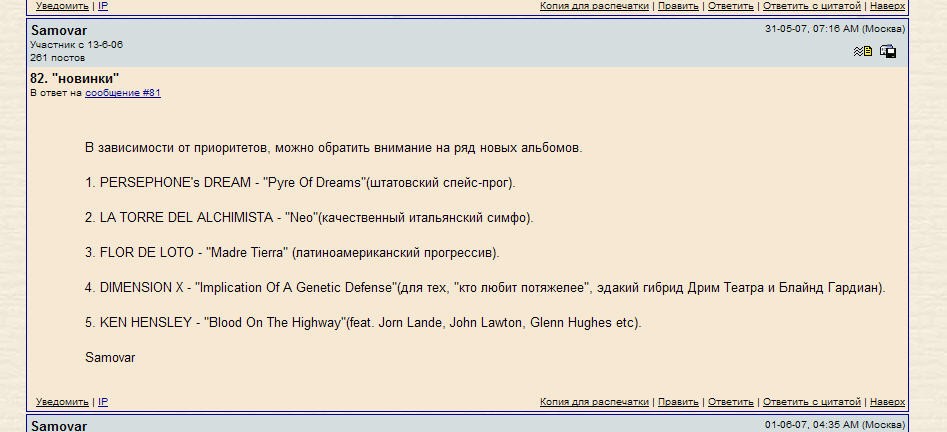 Hmmmm... where do I begin?
I was sitting here scratching my head and flipping through my loyal Funk and Wagnalls trying to come up with the precise words to describe the Persephone's Dream show last night (Saturday, May 12, 2007) at the Springdale Veteran's Association Banquet Hall. I'm not even sure my 868 page Merriam-Webster's Thesaurus contains, (holds, includes, embodies, embraces, encompasses) exactly what I, my buddy Gary Boyle, and a full house were thinking watching this production. Weird? Yes... Odd ball? Fer sur'... Quirky? The quirkiest... Over my head? Miles... Entertaining? The best I've seen in a long time...........
First, before I lose myself in the music I have to say my wife and daughter love dragons; dragon posters, dragon tee shirts, dragon drink coasters... o.k. maybe not the coasters, but dragons? Oh ya. Had they slithered onto the stage last night spinning on the back of a dragon chased by a wand wielding Merlin I would have thought it "the right thing to do". This show was pulled right from the pages of an Arthurian bio. No magic was missed, from the classic Rogers drum kit, assaulting atop the castle walls, to the sparkle dusting, bubble blowing fairy bookcased in eerie glowing orbs, no detail was left incomplete. I think I even caught the spotlights reflecting mythical sunbeams off the shimmering blade of Excalibur. And no fashion conscious Guinevere would ever Fear the Reaper with the revolving wardrobe we feasted on... "pass the mutton and a swath of that scarlet embroidery please"...
Don't for one A.D. second think I forgot about the music... I didn't, but I did, and yet I didn't... What I mean to say is this... I can't remember any one song... Were they songs? I remember back in the '60's (you know the '60's, before the days of electricity) they coined a curious event "A Happening". My take on this is the show and songs was A Happening... They told a story, yes, well at least I would like to think I was sophistocated enough to realize that (again as I mentioned earlier it was miles over my head), and I do recall an overture and coda, but to pinpoint just where those breaks defined songs I can't say. I do remember incredible drum and percussion solos, cymbals crashing on the floor, dazzling guitar licks, power chords, dreamy keyboards and synthesized sounds, tweeting birds, exceptional bass lines and Heavenly second soprano vocals, but they all melt together into memorable mystical medieval magic. This my knights and knightesses was THE show to see (and hear).
After the show I was chatting with John Tallent (percussionist and fellow 1970 Penn Hills grad) and mentioned that I thought the show was really weird, and I loved every minute of it. I told him that Cher it was not... He summed it all up with a Tallent-ed understatement, "We're not that cheesy yet"...
If you haven't seen Persephone's Dream you are missing something most don't get to witness these days, a true Happening... "you shook me, took me, outta my world, I woke up, suddenly I just woke up to the happening..."
Webmaster
Sonny Derdock '70
For information on Persephone's Dream or get their latest (4th) cd Pyre of Dreams, e-mail me at
PennHillsPa@yahoo.com
and I'll pass it along.

The band that swept Europe, Scandinavia, Asia & Japan, Persephone's Dream, has just completed their 4th album. They are home for just a little while and you must catch their show! Their show is just that, a SHOW, with props, costumes, very cool lights and tremendous musicians with all original music. I hope to see you there...