This page includes special dates and events that You, Penn Hills People, want others to know about. Also, looking for a yearbook, class ring, etc?... post it here... So, if you want to "shout out" to others, please e-mail us at
P
ennHillsPa@yahoo.com
and we will list it here.
I'm living in Pinellas Park Florida now. My '86 class ring was stolen from me by a ex, and probably pawned. It had a ruby for a stone, the Indian on one side and our school on the other. My name was in script inside it, Michelle Goodman.If anyone knows how to track such a thing down, please let me
know.... thanx turnerd@pcsb.org
I lost my yearbook in a fire a few years ago. Is there any place In Penn Hills where I can purchase another one?? I graduated in 1982. I know the library has ones for viewing purposes only, but I would like to purchase one if I could. Please help me if you can. Sincerely, Michele Coll Russo Class of '82 mrusso338@comcast.net
Click on photo to view actual size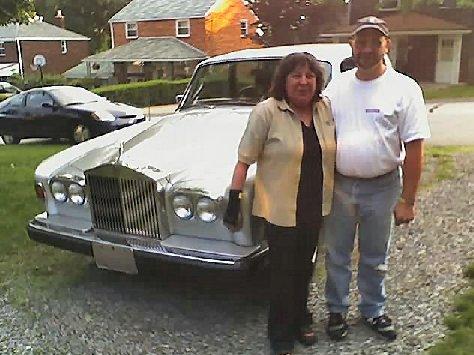 Denis Altenburger '70 and fiance Wendy Walker
"...What a long strange trip it has been..." The Grateful Dead
After 36 years of being together as friends and engaged for 3, we (Denis Altenburger '70 and Wendy Walker) have decided it's time to take the next step in our relationship and get married. We certainly don't want to be accused of rushing headlong into something.
Recent events in both of our lives have made us realize that maybe it's time for us to do this. We both undertake this with great joy in our hearts and spirits. Though tinged with sadness knowing that some of those we have held dear to us will not be able to be there physically but will be there in spirit. Though I can hear her mom razzing us from the other side, "....Good grief! It's about time the two of you got married...."
1984 Class rings I'm looking for a man & a womans' Penn Hills High School 1984 rings.... Mine & my high school sweethearts' rings.... I rented a house around 1989-1990 or so across the street from LaBarbs resteraunt/bar in Monroeville, PA with a friend.... I had all my things packed up & ready to move into my new place stored in the basement of this house, when the friend that I was living with let his *high school aged* Brother have a party there. Unfortunately neither of us were there and from what I hear it ended up being the biggest Penn Hills High School party of the year & things got out of control, the cops were called, windows broken, etc... Anyways, I have a strong feeling that someone at that party stole those rings, probably hawked them, but I just wanted to get my story out there in hopes that someone will remember this party & maybe know something about this.... (Hint: My dog a German Shepherd named *Grizzly* was there & my friends' last name was Reese) If so, I know it's a lost cause by now to retrieve them, but it would be nice if some kind hearted person out there does remember this and maybe would like to lift some of their guilt by admitting this. It would be just nice to know what really happened to them....

Also, the day I did move my things from that house was a very rainy night & my parents & I moved my things in a hurry and we forgot all about the Christmas decorations in the attic. I didn't realize this until the following Christmas when I went to look for them, by then it was too late, the house was demolished for commercial property. I lost some things that were very near & dear to my heart like my stocking that I grew up with & also my dead Brothers' stocking as well, along with some very sentimental ornaments..... If this gives anyone a hint, the Christmas lights were all *green*.... I have decorated all of the places that I have lived in with only green lights, a tradition that my Mom started long ago..... If anyone out there can give me any information about any of this it would be greatly appreciated!!!! Sincerely, Susan (Sullivan) Flook

susanflook@comcast.net
YEARBOOK: I AM LOOKING FOR A 1966 PENNHILLS SENIOR HIGH SCHOOL YEAR BOOK IF ANY ONE HAS ONE OR KNOWS WHERE I CAN GET ONE PLEASE GIVE NOTICE IMMEDIATELY. ShaWashington27@aol.com
YEARBOOKS: I am looking for copies of Penn High School yearbooks for the years 1955, 1956, 1959, 1960 to buy borrow or steal. If you can help, please e-mail me at
dorthclarke@comcast.net
Dot Clarke-Class of '58
YEARBOOK: I am looking for a Penn Hills Sr. HS Secena 1987. Please e-mail me if you have one for sale, or know where I can get one. Thank you dragnfog@comcast.net
YEARBOOK: I am looking for a copy of the 1978 Penn Hills High School Yearbook. Please e-mail me at
Mike Kainaroi
kainaroi@comcast.net
CLASS RING:
Dwight Hitchens would like to contact the person who found the 1973 Class Ring with DGH inscribed on it. I can be reached at
trainguy1137@aol.com
. Thank you. (original posting): FOUND: a Penn Hills Indians class of 1973 class ring with the initials DGH, possibly a man's ring; this could be David G. Hall's or Dwight G. Hitchens'. If you are interested in finding out more information about this ring, e-mail
jfhackett@comcast.net
YEARBOOK: I am looking for a copy of the 1970 Penn Hills High School Yearbook. Please e-mail me at karaoke1345@aol.com if you have any suggestions. thanks!
Eat-n-Park PIX IN HARMERVILLE: I am looking for pix's of the Eat-n-Park in Harmerville, circa 1966. My parents met there and they've been together ever since. Their 40th anniversary is coming up and me and my sister want to get pix's together (thru the years). Thank you for any help you can give us. You can e-mail them to this e-mail address. Thanks again.
Bamixmaster@aol.com
1980 YEARBOOK... LOOKING FOR A COPY OF THE 1980 YEARBOOK. THANKS, Harold Pollitt '80 hp2662@netzero.net
BAND BOOKINGS:
Looking to book a band for any Penn Hills Class Reunion? I am a Penn Hills Alumni (Class of 80') and I play in and book several bands that can provide entertainment/dancing music for class reuinion. We have many styles including Rock & Roll, R&B, Music from the 60's & 70's, Swing, Jazz, Ballads, etc..... The bands include an R&B Band w/ Vocalists, Jazz Quartet, Jazz Combo (6 or 7 piece) and Big Band w/singer. For more information contact Deb Weible at
GEODAW@aol.com
ITEMS AND GIFTS: Visit Guy's Specialty Advertising for creative ideas, quality promotional items and business gifts. See his banner on the "Links" page. (Guy is a 1970 PHHS grad )
YEARBOOKS: Found nice used Seneca yearbooks from Penn High School in Allegheny County, PA, for the years 1957, 1958 and 1959. If you are searching for a replacement copy for one of these yearbooks, please feel free to contact me. Gary Behymer, Colfax, Washington 99111
RING LOST: ladies class ring 1967; if found please contact Lisa (Arena) Urban, posiedriver@aol.com
HAROMBEE FANS: After over 30 years - they finally have released their first CD! It came out great and it is selling exceptionally...The CD is called HAROMBEE: Classic Tracks and contains 8 songs at about 54 minutes. 7 are great renditions of classic rock songs we grew up on and the 8th is their original "Gentle Rain". They worked very hard on both the recording and the CD graphics and they include a bonus that no one else has ever given inside the jewel case. You'll have to buy one to see what it is, but it is very cool. They are offering the CD at a very reasonable $10.00 and it can be purchased at any of their gigs. They are very professionally done, shrink wrapped and all! If anyone would like one sent to them, please send Ken a check (see below), made out to HAROMBEE to the following address: Ken Coey
301 Fayette Dr
Cranberry Twp, PA 16066
They also have t-shirts - very nice gray, SM-MED-LG-XL, with nice left breast over Harombee logo and HAROMBEE on the left sleeve.
Please add a flat $3.00 S&H to your check amount.
The prices are:
Harombee CD - $10.00
Harombee T-Shirt - $15.00 (Please indicate size)
Otherwise, come out and see the band!!!!!!!!!. See their website, too. www.harombee.com WEBMASTER'S NOTE: I bought a copy of the cd, and these guys and girls OWN these covers, they have made them their own. And the bonus? You'll just have to buy the cd to see how really cool it is!

REUNION PHOTOS: Anyone with photos from The PHHS Class of 1982, 20 year reunion on Saturday, May 10, 2003, please e-mail them to: PennHillsPa@yahoo.com and we will add them to the site. Thank you, Webmaster
FOUND: a Penn Hills Indians class of 1973 class ring with the initials DGH, possibly a man's ring; this could be David G. Hall's or Dwight G. Hitchens'. If you are interested in finding out more information about this ring, e-mail jfhackett@comcast.net